Milestones in Mechanical Engineering
within the Milwaukee Section
As befits an industrial powerhouse like Wisconsin, there exists a rich and varied history of engineering accomplishments, breakthroughs, and advancements of technology made by practitioners of Mechanical Engineering. We offer these examples of outstanding work performed within the area of the Milwaukee Section.
Begin the tour with a Brief History of the Milwaukee Section or view the available topics.
---
The desire to advance their art lead mechanical engineers in Milwaukee to found the first local section in the ASME.

Company:

Wisconsin Michigan Power Company
First Edison Hydro-Electric Central Station to serve a system of private and commercial customers in the US (1882).

Company:

A.O. Smith Corporation
When the automated automobile frame machine began production in 1920, it produced more than ten frames per minute with a process that included more than 500 operations. It was considered a wonder for its time and a prototype of factories of the future. A Mechanical Engineering National Landmark

Company:

E.P. Allis & Co.
The first centrifugal pump by E. P. Allis & Co. was rated at 70 million gallons per day. It was built for pumping sewage at Jones Island in Milwaukee

Company:

Milwaukee Electric Railway and Light Co.
This was the first central station in the United States to be equipped and successfully operated with pulverized fuel. A National Historic Mechanical Engineering Landmark
The first electric blender was developed by Stephen J. Poplawski of Racine, about 1915.

Company:

E.P. Allis & Co.
Pollution plagued the Milwaukee River in the 1880's, particularly in warm weather. This very large screw pump was designed to pump water from Lake Michigan into the river just south of North Avenue. It astounded critics when it demonstrated a capacity of 40,000 cubic feet per minute. It saw service for nearly a century, only ceasing operation when improved water quality made its use unnecessary.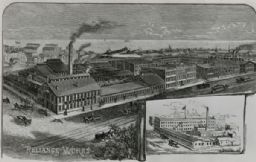 Company:

E.P. Allis & Co.
Irving H. Reynolds developed the triple expansion steam engine for use in pumping service. The first engine built, purchased by the City of Milwaukee in 1888, delivered on his promise of both increased power and economy.

Company:

E.P. Allis & Co.
One of the impressive attractions at the 1893 World's Columbian Exposition in Chicago was a 3,000 horsepower quadruple-expansion Reynolds-Corliss steam engine, built by the E. P. Allis Company.

Company:

Allis-Chalmers Co.
An experimental tractor, developed by Allis-Chalmers Research laboratories in 1959 is credited with being the first vehicle powered by fuel cells. The engineless tractor was presented to the Smithsonian Institution in 1960, where it is still a part of the Institution's collection.
In 1896 Nels P. Flodin, an employee of Lake Shore Iron Works developed the first working gas-powered outboard motor.
The Milwaukee-Matic II by Kearney & Trecker, first offered in 1959, was the forerunner of automatic tool changing CNC machining centers manufactured by machine tool builders all over the world and was accepted as an outstanding improvement in machine tool construction.
A new invention milled into rail ties a sold, square, and level surface on which to mount replacement rail, inreasing both quality and productivity. It allowed trains to run better at less cost.
The four clocks that make the Allen-Bradley Tower Clock the largest four-faced clock in the world are on a scale that required new technologies for both clockwork and hand construction.
The Hydraulic Products Division of Rexnord developed a highly advanced electronic hydraulic control system capable of operating a massive 50,000 ton forging press.
Mercury Marine pioneers the modern two-stroke outboard motor, along with other innovations such as direct steering and underwater exhaust.
Nordberg was the first in the US to manufacture large stationary diesels as well as the first gas fired diesel and the first turbocharged four-stroke diesel engine.
Located on Lake Michigan, the South Shore Wastewater Treatment Plant uses anaerobic digestion to generate methane gas. The plant uses the gas as fuel for its energy needs.
Developed by Globe Battery of Milwaukee, battery cases made of thin wall injection molded propylene reduced battery weight by seven pounds and increased of working volume by 10 to 20%.
Research by Aqua-Chem leads to the long-tube mult-stage flash evaporator.
The first walk-in hyperbaric chamber in the United States was designed by Joesph Charles Fischer of Milwaukee.
Alfred Lawson puts into the air the first jumbo passenger craft.
Professor Johnson in 1893 patented the bimetal electric thermostat and founded the now Johnson Controls, the first of many devices advancing comfort technology.
Innovative use of hydraulics and air entrainment supplies Victoria Mine with compressed air, using no moving parts other than flowing water.